Veterans Services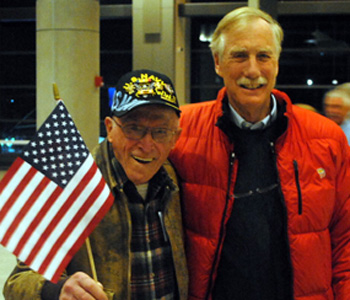 We have an obligation to ensure our nation's veterans are provided with the most comprehensive and accessible assistance programs available. We must not only redouble our efforts to care for those who have already served in the armed forces, but as a new generation of Soldiers, Sailors, Airmen, Coast Guardsmen and Marines return home from around the globe, we must also make certain that they have continued access to the health, education, and employment services they undeniably deserve.
Resources
Maine VA Medical Center - Togus in Augusta - which has a satellite clinic in Houlton and a mental health outpatient facility in Portland. VA Togus is a full-scale hospital.
The VA operates eight Community Based Outpatient Clinics (CBOCs) throughout the state. Locations include Bangor, Calais, Caribou, Lewiston, Lincoln, Portland, Rumford, and Saco. CBOC facilities provide primary care, mental health services, medical benefits counseling, lab services, and smoking cessation counseling.
Maine has five VA-operated Vet Centers. These are located in Bangor, Caribou, Lewiston, Portland, and Springvale. Vet Centers offer readjustment counseling to returning veterans.