WASHINGTON D.C. – U.S. Senator Angus King (I-Maine) today questioned top Navy officials on the decision to include only one DDG-51 Flight III destroyer in President Joe Biden's budget request for Fiscal Year (FY) 2022. During this afternoon's hearing of the Senate Armed Services Subcommittee on Seapower, Senator King strongly pushed back against the move to cut the destroyers from the budget, citing negative effects of this cut on both national security and the long-term stability of the defense industrial base – including Bath Iron Works, which is one of two shipyards in the nation that builds DDG-51s. In May, Senator King joined the Maine delegation to express opposition toward the reduction of one DDG-51 from the budget, which would break the Navy's multiyear procurement contract and eliminate a ship which is commonly understood to be the "workhorse of the Navy".
SENATOR KING: "As you know, one of the principal concerns I have with this budget is the striking of a [DDG-51 Flight III] from the multi-year procurement [contract]. Number one, it strikes me as a terrible precedent and signal to the American industrial base to reach a multi-year, which has already been assumed, contracted for, and moving forward. That would actually cost the government something like $30 million just to do that. You were just testifying about the need for a larger Navy, and the shift towards China. The Pacific is a very big ocean, and naval power is our most important way of projecting power."
Senator King specifically highlighted how this decision could undermine the long-term effectiveness of the nation's defense industrial base:
SENATOR KING: "One of the problems we have, and I point this out with regard to Bath Iron Works…what you see here is this is a photo of the [defense] industrial base. And these are the employees, and what happens is, at the end of the current multi-year, the industrial base disappears. Now this is DDG(X), the problem we have is this trough, which is getting the industrial base from full construction of DDG Flight IIIs to DDX which isn't even designed yet. And, the problem is, and I live 8 miles from this yard, you cannot turn on and off this capability. When welders leave and go somewhere else, they're gone. And, so I urge the Navy to be thinking about this, and in fact, I believe we should restore that ship, but also talk about advanced procurement for three ships and beginning the process of a new multi-year, because otherwise, the industrial base wastes away. And then, as I say, you can't turn it off and on."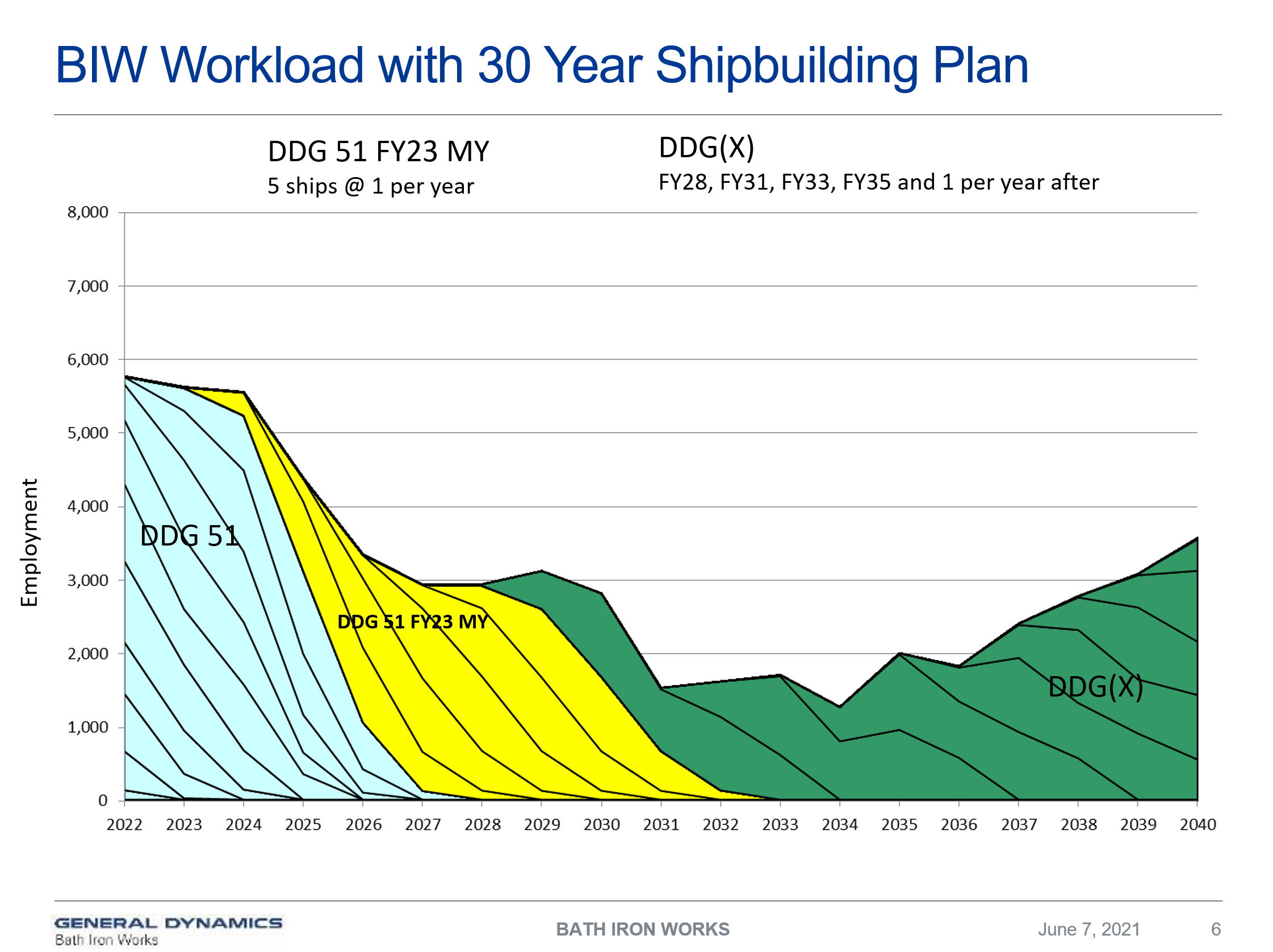 Last month, Senator King joined Senator Susan Collins (R-Maine) and Representative Jared Golden (D-Maine) to host Chief of Naval Operations (CNO) Admiral Mike Gilday in Maine to tour Bath Iron Works and meet with leadership and employees. In April, Senators King, Collins, and Representative Chellie Pingree (D-Maine) hosted Acting U.S. Secretary of the Navy Thomas Harker at both Bath Iron Works and Portsmouth Naval Shipyard. In March, Senators King, Collins and Representatives Pingree and Golden sent a letter to Defense Secretary Lloyd Austin and Deputy Secretary of Defense Kathleen Hicks, urging them to provide unequivocal support to the long-standing and congressionally mandated requirement for a larger and more capable Navy fleet.
Today's hearing featured testimony from Lieutenant General Eric Smith, Deputy Commandant for Combat Development and Integration; Vice Admiral James Kilby, Deputy Chief of Naval Operations for Warfighting Requirements and Capabilities; and Mr. Frederick Stefany, Acting Assistant Secretary of the Navy for Research, Development, and Acquisition.
As Chairman of the Senate Armed Services Committee Subcommittee on Strategic Forces – which oversees the United States' nuclear posture worldwide – and a member of the Senate Select Committee on Intelligence, Senator King is recognized as a thoughtful voice on national security and foreign policy issues in the Senate. In addition to his committee work, Senator King serves on the Congressional-Executive Commission on China, the Senate North Atlantic Treaty Organization (NATO) Observer Group, and is co-chair of the Cyberspace Solarium Commission. He voted in favor of the Senate's passage of the National Defense Authorization Act (NDAA) for Fiscal Year 2021, which includes several funding and policy priorities advocated for by Senator King to support military facilities and communities in Maine and advance the national defense. The legislation – including $3.0 billion for the procurement of 2 DDG-51 Arleigh Burke-class destroyers in fiscal year 2021 – became law earlier this year after Senator King and the overwhelming majority of his colleagues voted to override former President Trump's veto.