WASHINGTON, DC – Today, in a Senate Energy and Natural Resources Committee Hearing, U.S. Senator Angus King (I-Maine) highlighted the grave dangers posed by rapidly rising carbon dioxide (CO2) levels in the atmosphere. Citing charts to illustrate the historic trends of CO2 levels in the atmosphere, Senator King asserted that the current CO2 levels – in excess of 415 parts per million – have risen far above what has previously been seen throughout human history. Later in the hearing, Senator King emphasized the importance of global collaboration in order to fully and effectively respond to the threats of climate change.
"This is 10,000 years of CO2 in the atmosphere," said Senator King, pointing to Chart 1 (copied below). "And it's a little hard to see because the hockey stick is so steep, but where we are is the very top of the chart now. And what you can see we've gone from an average of about 240 ppm [parts per million] - last week it was 415 [ppm].
CHART 1: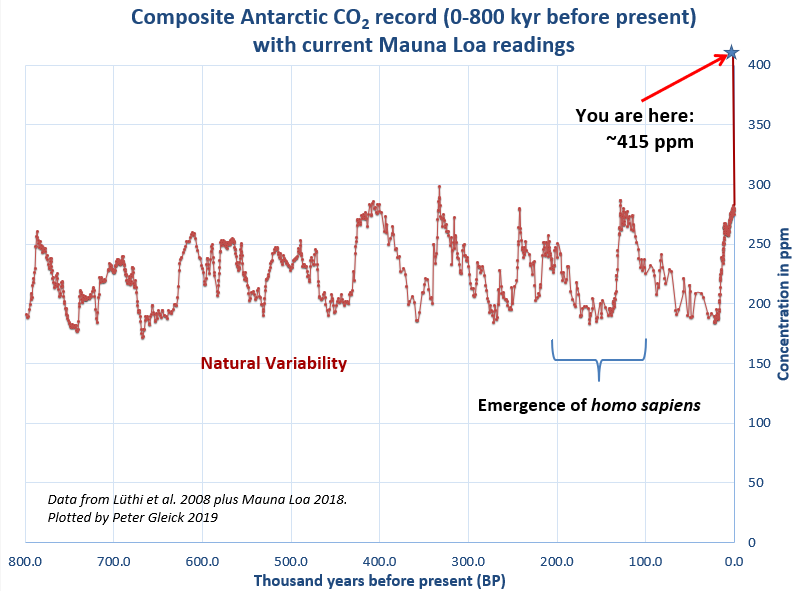 Senator King then continued, pointing to Chart 2 (copied below): "This is 800,000 years of CO2 in the atmosphere. What it shows is: yes, there are variations over time, but we're now, again where the red arrow is, at a place that we haven't been for 3 million years. The last time we were at this level of carbon, the oceans were 60 feet higher, and there were jungles in Alaska – that's why there's oil there. So we're really in a very dangerous place. Literally never been there before in terms of human history. So I just thinks it's important – I'm a visual learner – to see where we've been for 800,000 years, where we are now. And it really makes this hearing a very important hearing… What this chart tells us is we could go to zero emissions tomorrow, and we're still in a hell of a mess. And we've got to start talking about, not only controlling emissions, which is urgent, but also pulling out what's already in the atmosphere…"
CHART 2: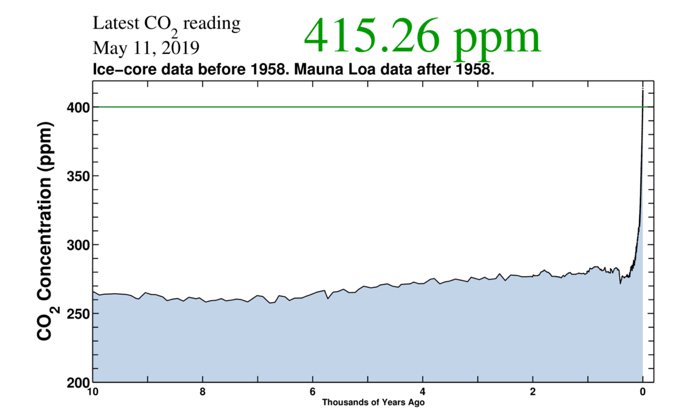 A forceful advocate for clean energy solutions, Senator King is the lead sponsor on clean and efficient energy bills such as the Next Generation Grid Resources and Infrastructure Development (GRID) Act that would encourage energy independence, foster innovation, and leverage federal resources to support a more resilient and modern electric grid through the use of distributed and clean energy resources. Last month, he published a column on Earth Day laying out ambitious and attainable steps America must take to respond to the challenges of climate change. He is also the lead sponsor of the Combined Heat and Power (CHP) Support Act, legislation that would support businesses investing in energy efficiency technology, help diversify energy options for rural industries, and maximize use of Maine's natural resources. Senator King introduced this bill in November 2017, after holding an ENR Committee field hearing at Robbins Lumber in Searsmont to identify opportunities to use new energy efficient technologies to sustain and strengthen rural industries. Senator King is also the lead sponsor for the Biomass Thermal Utilization (BTU) Act, a bipartisan bill that would incentivize the use of energy efficiency biomass heaters in homes and businesses instead of relying on fossil fuel energy. He has also cosponsored the Energy Storage Tax Incentive and Deployment Act, bipartisan legislation which would establish an investment tax credit (ITC) for business and home use of energy storage.