Click HERE to watch the full video conference call
BRUNSWICK, ME – U.S. Senator Angus King (I-Maine) participated in a video conference call with civics and history teachers from schools across Maine, who are adapting to distance learning. During the call, which was held in collaboration with Maine Department of Education's Social Studies Specialist Joe Schmidt, Senator King provided updates on the latest federal efforts to support Maine people in the face of coronavirus, discussed the importance of our nation's innate checks and balances, and answered questions from Maine teachers.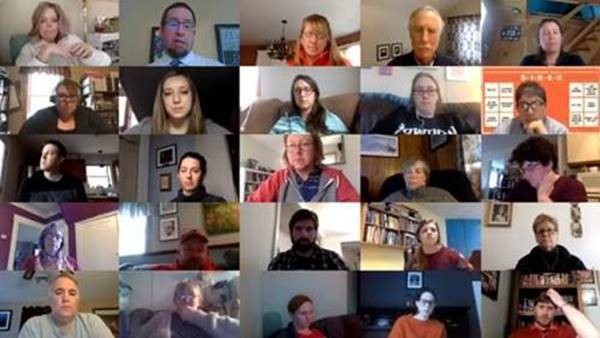 "In the face of coronavirus, Maine's teachers are stepping up and finding new, creative ways to keep educating our students," said Senator King. "Distance learning is a challenge for everyone, but our teachers are committed to making sure these new circumstances don't stand in the way of our children and a good education. Our entire state is grateful for continued efforts of Maine's educators, and we're all here to support their efforts in every way we possibly can."
As the coronavirus pandemic has caused cancellations of schools across the nation, Senator King has pushed to improve distance learning. Last week, he joined a group of colleagues in a letter to House and Senate leadership requesting robust funding for all K-12 students to have adequate home internet connectivity if their schools close due to the ongoing coronavirus pandemic – the group has repeatedly called for this. Last month, Senator King joined a group of his colleagues in calling on the Federal Communications Commission (FCC) to temporarily allow schools to utilize E-Rate program funding to provide Wi-Fi hotspots or devices with Wi-Fi capability to students who lack internet access at home. Earlier in March, Senator King sent a letter to the CEOs of eight major internet service providers (ISPs), calling on the companies to take steps to accommodate the unprecedented reliance we will likely see on telepresence services, including telework, online education, telehealth, and remote support services; in response to Senator King's letter, several major ISPs took action to better support these remote technologies.
As a co-chair of the Senate Broadband Caucus, Senator King has been a strong advocate for broadband infrastructure initiatives and bridge the homework gap. In the February edition of Senator King's monthly podcast, he was joined by Senator John Boozman (R-Ark.) and FCC Commissioner Jessica Rosenworcel to discuss ways to close the digital divide experienced by rural communities across the nation. In April 2019, King introduced the Digital Equity Act of 2019, which would strengthens federal support for efforts to help ensure students, families, and workers have the information technology capacity needed to fully participate in society.