WASHINGTON, D.C. – U.S. Senators Angus King (I-Maine) and Todd Young (R-Ind.) yesterday returned from a Congressional Delegation to Saudi Arabia, the United Arab Emirates (UAE), and Oman. Senators King and Young met with Saudi Arabia's Crown Prince Mohammed bin Salman in Jeddah on Sunday. They pressed the Crown Prince on the humanitarian and security crisis in Yemen and releasing pledged humanitarian relief, as well as the death of Jamal Khashoggi.
During their visit to the region, Senators Young and King also met with other regional leaders including the Crown Prince of Abu Dhabi Mohamed bin Zayed, foreign diplomats, and U.S. military personnel serving aboard the guided missile destroyer USS Gonzalez, a Bath Iron Works-built ship that is conducting operations to protect U.S. commercial ships and shipping lanes in the Persian Gulf. Their meetings were focused on tensions with Iran, countering global terrorism, the civil war in Yemen, and priority humanitarian issues.
"Tensions that originate in the Middle East ripple out to affect the rest of the world, so it's vital that the United States continues to engage with our partners in the region," said Senator King. "This trip allowed us to gain further insight into the region's challenges and opportunities through frank conversations with key regional players about security concerns and human rights protections, and by hearing directly from our military and diplomatic personnel who are on the front lines of implementing U.S. policy. I'm looking forward to bringing my findings from this trip back to the Senate to inform how we support stability in the region and check malign actors like Iran."
"As someone who has been laser focused on the ongoing civil war and humanitarian crisis in Yemen and the tensions with Iran, this trip provided an important opportunity to meet with and better understand three of the major players in the region," said Senator Young. "Diplomacy is complicated and we're not going to make progress without open dialogue. Candid conversations with these three countries are critical as we confront the serious threat posed by Iran, continue working to end the world's worst humanitarian crisis in Yemen, and address the religious extremism that is fueling these challenges across the Middle East."
As a member of the Senate Armed Services Committee and the Senate Select Committee on Intelligence, Senator King is recognized as a strong, thoughtful voice on national security and foreign policy issues in the Senate. He has been a leading advocate for continued diplomacy in the region, urging a de-escalation of tensions with Iran to avoid miscalculations. Additionally, he has repeatedly supported legislative efforts to remove U.S. Armed Forces from the ongoing civil war in Yemen pursuant to the 1973 War Powers Resolution, and has pushed for the United States to remain vigilant against human rights abuses in the region.
For over two years, Senator Young, a Marine and member of the Senate Foreign Relations Committee, has led efforts in the Senate related to the civil war and humanitarian crisis in Yemen where millions of people are on the verge of starvation. Earlier this year, Senator Young introduced the Saudi Arabia Accountability and Yemen Act of 2019 along with Senator Bob Menendez (D-N.J.). This comprehensive legislation would hold Saudi Arabia accountable for the murder of U.S. resident and journalist Jamal Khashoggi, and the Saudi-led coalition for its role in the devastating conflict in Yemen. 
U.S. Ambassador John Abizaid, Senator King, Senator Young, and Saudi Arabia's Crown Prince Mohammed bin Salman in Jeddah.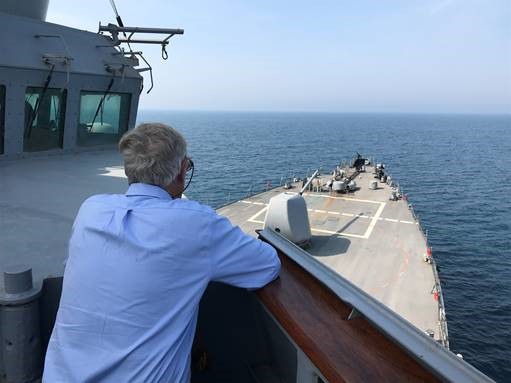 Senator King overlooking the USS Gonzalez (DDG 66).  

Senators King and Young meet with female activists and political leaders in Saudi Arabia to discuss women's rights in the Middle East.
Cmdr. Christopher Schwarz and Cmdr. Timothy Battles, the commanding officer and executive officer of the guided-missile destroyer USS Gonzalez (DDG 66), pose for a picture with Senators King and Young following a tour of the ship. (U.S. Navy photo by Mass Communication Specialist 3rd Class Maxwell Anderson/Released)
Senators King and Young speak to the crew of USS Gonzales.