BANGOR, ME – U.S. Senator Angus King (I-Maine), a member of the Senate Energy and Natural Resources (ENR) Committee and ranking member of the National Parks Subcommittee, today brought together Maine leaders and advocates to meet with Acting U.S. Secretary of the Interior David Bernhardt to discuss National Park Service priorities in Maine. During the meeting, Senator King underscored the Katahdin Woods and Water National Monument's economic potential for the region, and stressed the immediate need to address the maintenance backlog at Acadia National Park.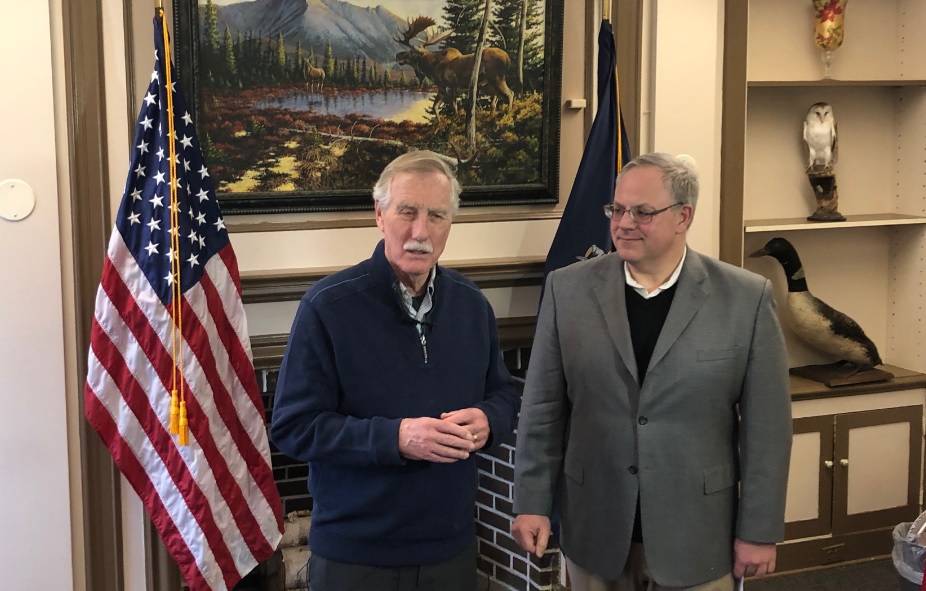 "We had a very productive two and half hours of meetings this morning, talking about the Department of the Interior interests here in Maine, which are Katahdin Woods and Waters and Acadia," Senator King said. "We talked about what the questions are that need to be resolved in the management plan at Katahdin Woods and Waters and the transportation plan and maintenance backlog at Acadia. I feel very positive that we will be able to move forward both at Katahdin Woods and Waters and at Acadia.
"I guess I should also conclude by saying, why is a U.S. Senator so interested in this? Because these are, number one, gem assets of our state that are close to all of our hearts. But they are also incredible economic assets. Acadia produces something on the order of $280 million dollars a year in economic activity in the Downeast region, and that's only going to grow."
Senator King has a strong record of protecting Maine's environment and natural resources, which advance Maine people's quality of life and are a boon to Maine's tourism industry and economy. He a steadfast supporter of the National Park System, and is a lead sponsor of the Restore Our Parks Act, bipartisan legislation that would address the $12 billion deferred maintenance backlog at the National Park Service. In September 2018, Senator King toured Acadia National Park with Acting National Park Service Director Dan Smith to assess the park's critical maintenance needs. The backlog at Acadia alone is estimated at approximately $60 million.
In 2017, Senator King urged then-Secretary Ryan Zinke to let the Katahdin Woods and Waters Monument stand, citing concerns that the Department of the Interior's review was having "economically chilling effect" on the local economy. During today's meeting with Secretary Bernhardt, Senator King reiterated the adverse impacts of Interior's review of the monument, and urged the Acting Secretary to address the issue if the Senate confirms him as full-time Interior Secretary.
The Senate ENR Committee oversees Presidential nominations to the Department of Interior. Acting Secretary Bernhardt's confirmation hearing to become full-time Secretary of the Interior is currently pending before the Committee.
Joining Senator King and Acting Secretary Bernhardt in the meeting today were National Park Service Acting Director Dan Smith, Superintendent of Acadia National Park Kevin Schneider, Maine Department of Inland Wildlife and Fisheries Commissioner Judy Camuso, Elliotsville Plantation President Lucas St. Clair, and representatives from Friends of Acadia.
Photo: U.S. Senator Angus King (I-Maine) speaks at a press availability with Acting U.S. Secretary of the Interior David Bernhardt in Bangor.