WASHINGTON, DC – Today, the office of U.S. Senator Angus King (I-Maine) released the June edition of Senator King's Inside Maine podcast. This month's podcast features U.S. Senator Tina Smith (D-Minn.), who will serve with Senator King on the Bipartisan Policy Center's Honorary Congressional Task Force, and Kris Doody, CEO of Cary Medical Center. Senator Smith joined Senator King in the first segment to discuss rural healthcare policy and ways to improve access to care across the country. After his conversation with Senator Smith, Senator King then spoke with Kris Doody to discuss the challenges rural healthcare providers face in Maine and Cary Medical Center's work to care for its patients.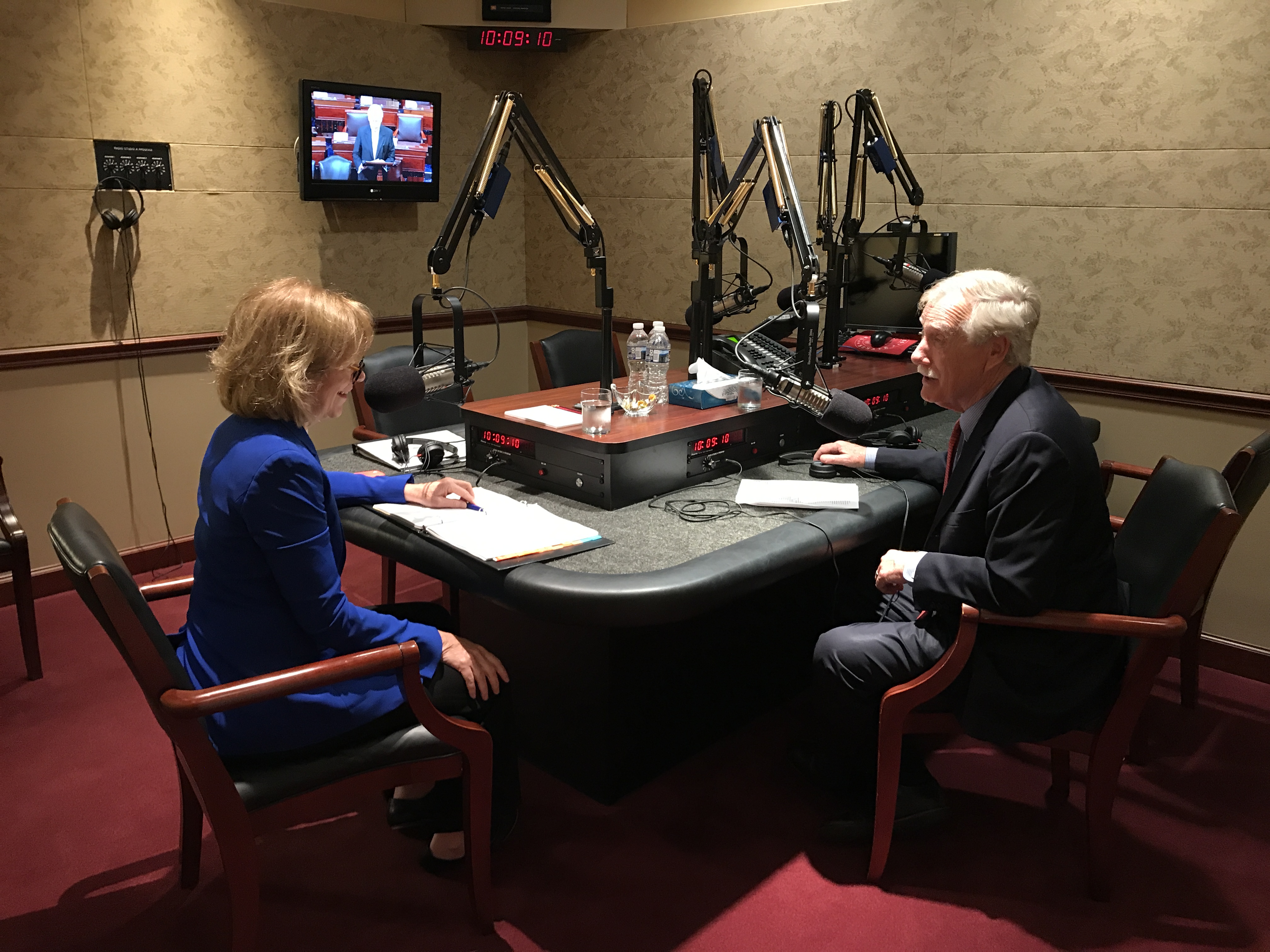 "Maine people deserve access to quality and affordable healthcare, regardless of where they choose to raise their families," said Senator King. "Folks that live hundreds of miles away from their nearest hospital should be able to feel the same level of comfort as folks who live right down the street from one. Oftentimes, the greatest obstacles to providing top quality healthcare are due to a shortage in the workforce, and a strain on resources to combat the opioid epidemic. It is reassuring to note that while Senator Smith and I work with a bipartisan group of colleagues in the Senate, there's good – and extremely talented – professionals like Kris Doody working to improve rural healthcare for all Maine people."
Senators Smith and King are both members of the Bipartisan Policy Center's (BPC) Honorary Congressional Task Force on Rural Health which will officially launch in the next few weeks. Senator Smith is also a member of the Senate Health, Education, Labor and Pensions Committee and the co-chair of the Senate Rural Health Caucus, a bipartisan group of Senators fighting to protect, expand, and improve healthcare.
In May 2018, Kris Doody was the only Maine professional named one of the top 100 healthcare leaders in America, a list which included Bill and Melinda Gates. At the age of 15, Doody began serving as a certified nurse's aide and then went on to continue her education to become a registered nurse with a degree from the University of Maine. She then became manager of surgical services, Chief Operating Officer, and then Chief Executive Officer at Cary Medical Center. During her time as COO, Kris also earned a Master's Degree in Business from Husson College.
During his time in the Senate, Senator King has been a strong advocate for healthcare in rural areas that is accessible and affordable. Last June, Senator King and Senator Susan Collins (R-Maine) applauded a draft proposal from Federal Communications Commission (FCC) Chairman Ajit Pai that would significantly increase funding for the Universal Service Fund's Rural Health Care (RHC) Program. In October 2018, Senator King applauded the Senate's passage of legislation that reauthorizes the Federal Aviation Administration (FAA) for five years. The bill includes an amendment introduced by Senators King and Collins, to require that airport improvement plans take into account the role airports play in medical emergencies. Also in the 115th Congress, Senator King cosponsored legislation such as the Rural Emergency Acute Care Hospital Act, the Preserve Access to Medicare Rural Home Health Service Act, and the Rural Hospital Access Act, all of which work to better healthcare services in Maine and the United States.
The "Inside Maine Podcast with Senator Angus King" is a 30-minute program that aims to help keep Maine people informed about issues of the day, how they affect life in the state, and how they factor into Senator King's work as one of two independents in the U.S. Senate. Senator King's podcast builds on his existing radio show that airs on Newsradio WGAN in Portland, Maine between 10 and 11 a.m. on almost every last Saturday of the month. The link to the June podcast can be found HERE.